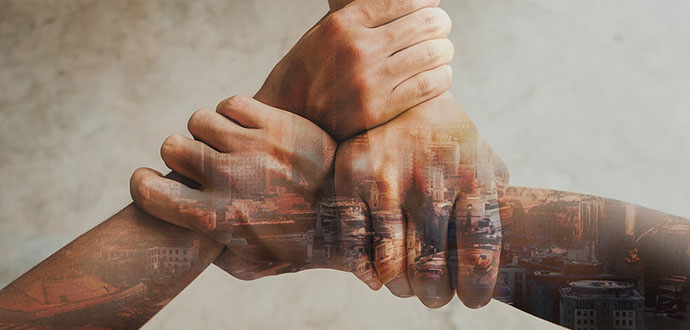 Value Chain Management
Supply Chain Management
To build a sustainable supply chain, USI has implemented measures to support local suppliers, implement human rights and protect labor rights, restrict the use of hazardous substances and avoid using conflict minerals, as well as adjusting our procurement strategy according to global industry trends. We have adopted various procurement strategies according to the major categories of raw materials to diversify our sources of supply to reduce risks and ensure competitive pricing, reasonable cost, accurate delivery, and sound quality.
Supplier Code of Conduct
As a responsible corporate citizen, USI have taken proactive measures to ensure the highest standards of professional and ethical business conduct. We believe that USI's long-term operation and success shall rely on the corporate sustainability and realization of corporate social responsibilities. Since the supply chain is a critical extension of USI's business value chain, we are actively devoted to developing supply chain to ensure that our suppliers, contractors, service providers and subcontractors collectively achieve the goal of sustainability.
We established this USI Supplier Code of Conduct ("Code") and are fully committed to ensuring safe working conditions, ethical and environmentally responsible business operations, and worker dignity in our business and supply chain. As part of our commitment, we require suppliers to comply with this Code and the laws and regulations of the places they operate. USI also expects suppliers to hold their suppliers, contractors, services providers, and subcontractors to adopt and comply with this Code. Suppliers' compliance will be one of the considerations for USI's purchasing evaluation.
The Code is made up of five sections. Sections A, B, and C outline standards for Labor, Health, and Safety, and the Environment, respectively. Section D adds standards relating to business ethics. Section E outlines the elements of an acceptable system to manage conformity to this Code.
Supply Chain Strategy
USI fully understands that the overall power of procurement is a unique resource. In order to pursue sustainable growth while meeting the needs of our customers, in the Company's daily procurement operations, in addition to cost and quality considerations, we also evaluate the overall sustainable value generated by the supply chain, hoping to develop stable partnerships with suppliers, continuously improve the overall supply chain resilience, grow together with suppliers, and implement sustainable procurement in concrete terms.
Supply Chain Management Strategy:
USI Suppliers
USI supports local suppliers. This strategy not only facilitates the growth of the local economy and increases local employment rates, but also effectively saves energy and time consumed in transportation, helping us to minimize the impact on our environment. Therefore, our raw materials are primarily purchased from local or nearby suppliers. The procurement situation of local raw material suppliers in 2021 is shown in the figure below, the average proportion of local procurement of integrated manufacturing plants in the global total procurement is 39%, and the proportion of each region is 43% in Mainland China, 12% in Mexico and 29% in Taiwan. Our strategic procurement department will continue to strengthen the management of target suppliers and select local vendors with competitive advantages to enhance the competitive advantage of the local industry and strengthen the partnership with suppliers.
Percentage of Purchasing from Local Suppliers at All Facilities:

Supplier Evaluation and Regular Assessment
USI establishes a standardized supplier evaluation system and Vendor Rating system to select suppliers according to the supplier evaluation criteria for protecting human rights and environment, as well as providing customers with high-quality products that meet health and safety requirements. Through continuous and close cooperative relationships with suppliers, a sustainable supply chain can be jointly established.
Supplier Evaluation Procedure:
If the supplier violates the "Guarantee of Non-Use of Environmental Hazardous Substances", the supplier shall be responsible for product recycling or replacement, and shall compensate for any damages caused by such violation; if the supplier violates the "Supplier Code of Business Integrity", the supplier may immediately stop, or terminate the transaction relationship with the supplier, and shall bear the corresponding legal and compensation responsibilities and damages suffered. For more details, please refer to the following related files.
Download full PDF here:
After becoming our qualified supplier, we must regularly assess the supplier's performance. USI forms an assessment team and quarterly evaluates suppliers from three aspects: quality, delivery and communication, and price which shall be reviewed by the relevant units. We expect to improve the delivery of incoming materials, reduce the price of incoming materials, improve the quality of incoming materials, strengthen communication with suppliers, and continuously improve and find long-term cooperative supplier partners through supplier performance evaluation.
Supplier Regular Assessment: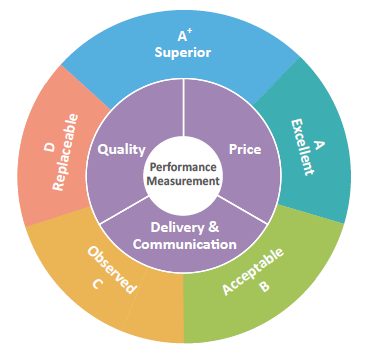 Supplier Sustainability Risk Assessment
USI abides by and uses the RBA Code of Conduct to audit our suppliers. Our RBA audit team is formed by members from our Human Resources Department and EHS Department and assesses suppliers in five dimensions: labor, health and safety, environment, ethics, and management systems. The assessment highlights labor rights protection, workplace safety, environmental management, and anti-corruption. To ensure suppliers' compliance with corporate social responsibilities and enhance their competitiveness we request suppliers to uphold human rights, ensure the rights and benefits of their employees, and advance their companies' social performances.
Sustainability Risk Assessment Procedure:

To implement effective supplier management, USI conducts risk assessments of suppliers through the Supplier Sustainability Assessment Questionnaire (SSAQ) and conduct on-site audits, the evaluation status over the years is as follows. For the deficiencies found in the audit, the suppliers were required to propose an improvement plan, and to complete the improvement within the deadline, with the supplier required to have a 100% completion rate of improvement items after the review. For suppliers that we had not terminated relationships with in 2021 after evaluation.
Supplier Sustainability Evaluation:
| Year | Unit | 2018 | 2019 | 2020 | 2021 |
| --- | --- | --- | --- | --- | --- |
| Number of suppliers evaluated with sustainability metrics | - | 382 | 515 | 576 | 419 |
| Percentage of suppliers that completed Supplier Sustainability Assessment Questionnaire | % | 71 | 70 | 70 | 73 |
| Number of suppliers and contractors on-site audited with sustainability metrics | - | 75 | 80 | 76 | 83 |
Distribution of Supplier Sustainability Audit Findings:
The results of the human rights risk assessment of suppliers in 2021 found that "Wages and Benefits, Freely Chosen Employment, Occupational Safety, Occupational Injury and Illness" were the main human rights risk issues. We identify suppliers that were likely to face high risks and take corresponding measures to continuously track the effectiveness of their different risk profiles and ensuing improvement plans.
Supplier Human Rights Incident Mitigation and Compensation Measure:
Mitigation Measure

Annual audits or RBA VAP to assess suppliers' human rights risks through each facility to mitigate risks.
Requiring suppliers to adopt corrective measures for human rights risks and conduct follow-up on implementation.

Compensation Measure

Requiring suppliers to provide guidance or compensation, or to implement policy changes or other measures for employees whose human rights have been violated.
If a high-risk vendor is identified, the Company shall conduct on-site audits and provide recommendations for improvement and require the vendor to submit improvement reports on a regular basis to track the performance of continuous improvement.
Supplier Communication
USI has held supplier sustainability briefings for seven consecutive years, Through the event promoted USI's philosophy and implementation policies, and communicated directly with suppliers around the world, including the continuous implementation of green supply chain in line with international trends for environmental protection, and the sharing of our requirements, implementation experience, and future goals for suppliers' ESG. In 2021, the Global Sustainable Supply Chain Webinar for the Greater China region was held at the Nantou Facility, a total of 276 supplier partners attended this online sharing conference.
In 2021, USI implemented TIMM (Total Impact Measurement and Management) to inventory the impacts and contributions to stakeholders from company's operations in Economic, Social, Environmental and Taxes in hopes to help company to improve operation performances through key management indexes correction. USI holds an annual Global Sustainable Supply Chain Webinar to address current sustainability trends, raise awareness about sustainability issues, reduce occupational safety hazards, and optimize suppliers' management systems. Survey feedback from 155 suppliers said they were "very satisfied" with our Webinar. 99% of survey respondents reported that this Webinar improved their competitiveness and expanded their business, thus creating an impact of CNY 6.66 million.